All "best" lists are opinions and open to argument. I saw this Best Book Covers of 2020 list and it reminded me of a design assignment I used to use with my students.
My eye went to the one book on the list I actually own and have read which is Jane Hirshfield's poetry collection, Ledger.
My first journal when I was 12 years old was done in a ledger that my father has lightly used and I found on a shelf. It had odd lines and was clearly meant to put some order to the contents – though not meant to order a seventh-grader's thoughts on life.
I like the book-on-book design. I like that the ledger's lines look like a chart and almost like a topographic map (which I also love and have collected). Does the cover tell us anything about the poems inside? It makes sense after you read them but not really before you open the book.
Looking at that site, you see a wide variety of styles. In my assignment, I asked students to consider all the elements of design we had studied (line, color, composition, typeface etc.) but I did ask that the cover tells us something visually about the book's plot, characters, or theme. Of course, outside the classroom, a key element is to catch your eye and the content of the pages within often seem irrelevant. Did the designer even read the book? Not a requirement.
The list comes from a survey of 29 professional book cover designers. The three best that this group chose for 2020 are Yu Miri's Tokyo Ueno Station; cover design by Lauren Peters-Collaer, Joyce Carol Oates' Night, Sleep, Death, the Stars; cover design by Jamie Keenan and Lidia Yuknavitch's, Verge; with a cover design by Rachel Willey.
Those three didn't particularly grab me and they probably weren't following all of my assignment parameters. I did like the True Love cover below because it is simple and also uncomfortable. I like all the "white" space which allows for clean areas for the text.
I looked up this book to see what it is about and according to the Amazon blurb it "captures the confused state of modern romance and the egos that inflate it in a dark comedy about a woman's search for acceptance, identity, and financial security in the rise of Trump."  The cover seems to appropriately warn that this love ain't so true.
I like this cover for A Children's Bible for some of its rule-breaking – the way the deer blocks some text,; that the birds – though blocked by text – seem to also be sitting on the words; the uneven right edge; the menace of the fire and burnt edge that the animals are looking at or heading into.
It's a busy cover and not improved when the publisher puts on an award sticker which usually seems to be placed rather randomly. Yes, I know that it's all about the marketing but it's another reason why I like white space in a design.
I also like the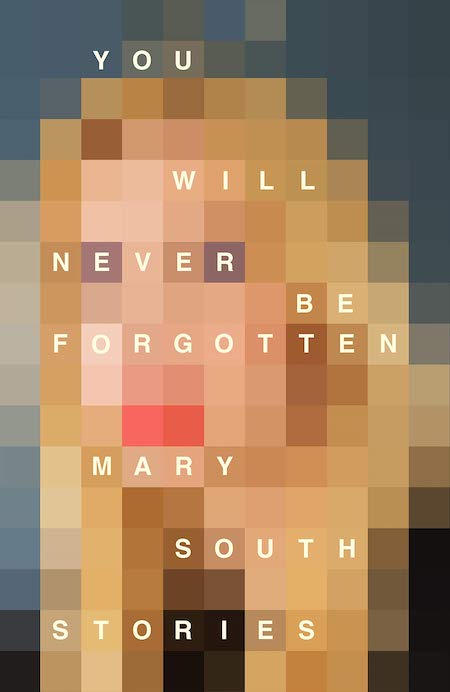 The cover image benefits from being viewed at a distance, as this smaller image shows the face clearer.
I also looked this book up on Amazon and was surprised to find a completely different cover. That often happens with books published outside the U.S. But the author, Mary South, is American and the image used on her own website is this one with three emoticons.
The book is a collection of stories so it may not have one tone or theme. Do the three emoticons fit that content better than the overly enlarged pixels of the woman's face cover?